Golfen in Zuid Limburg
In de nabije omgeving van de Smockelaer treft u maar liefst 5 top golfbanen aan. En dat allemaal binnen een straal van 15 minuten rijden. Golfen in Zuid Limburg is een beleving op zicht. Het unieke heuvelachtige landschap ziet u terug bij diverse golfbanen.
De golfbanen bieden voor iedere speler veel mogelijkheden en uitdagingen. Maar ook als u niet in het bezit bent van het GVB, of één van uw vrienden of familieleden heeft geen GVB, kunt u toch samen genieten van een heerlijke partij golf. Veel banen biede namelijk ook een 9-holes lus aa geschikt voor spelers zondr GVB.
Overzicht van de banen
Binnen een straal van een uur rijden kunt u zelfs terecht bij nog eens 20 golfbanen. Informeer bij ons naar de mogelijkheden.
Overnachten en golfen in Zuid Limburg
Optimaal genieten van 1 of wellicht 2 rondes op de golfbaan? Blijf dan slapen bij de Smockelaer. Huur één van onze luxe vakantievilla's en geniet na het lopen van de 18 holes heerlijk na in het zwembad of de sauna. Een golfweekend is nog nooit zo heerlijk geweest. Genieten van het spel, de omgeving en de luxe die onzevakantievilla's te bieden hebben.
Bent u met een groep vrienden of met uw familie? Huur dan een van onze luxe groepsaccommodaties en combineer het golfen met een heerlijk weekendje weg.
Na het golfen heerlijk eten
Na het lopen van de 18 holes kunt u natuurlijk in het clubhuis genieten van een hapje en een drankje. Maar als u eens wat anders wil kom dan eten bij de Smockelaer. In ons restaurant serveren we allemaal verse producten uit de streek. Ontdek de mogelijkheden van ons restaurant.
Discover South Limburg by bicycle or on foot
South Limburg has an extensive network of cycling routes and hiking trails. There are numerous opportunities to explore the area for both experienced and novice cyclists and walkers. In addition there are various themed routes. How about the blossom tour, asparagus route or the castles and gardens route?
Cyling to the top of those hills!!? No need, just walk the last bit and enjoy the nature a little longer!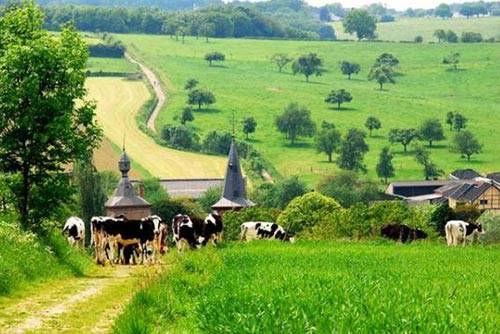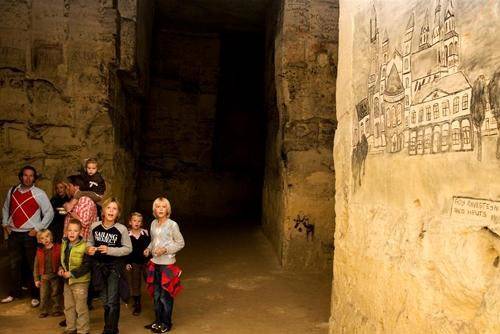 A trip underground
South Limburg's marlstone caves, who doesn't know them? Valkenburg is very well known for it's long underground labyrinth. The caves are definitely worth a visit, not only for adults but also for children it's a fun way to discover the mystery of an underground environment. In addition various activities are organized, such as a Christmas market and various cycling and survival trips.
Swimming and water sports in Limburg
Limburg has a beautiful rolling countryside, but do not forget the water sports. The river Maas offers great opportunities to go rafting, kayaking or canoeing. A spectacular experience! If you'd prefer a day swimming in a mega water park, go to Gulpen (3 km). Zwemparadijs Mosaqua is one of the largest subtropical swimming paradises in the Euro region. The pools, water slides, a pirate ship and spa facilities ensure hours of fun for young and old.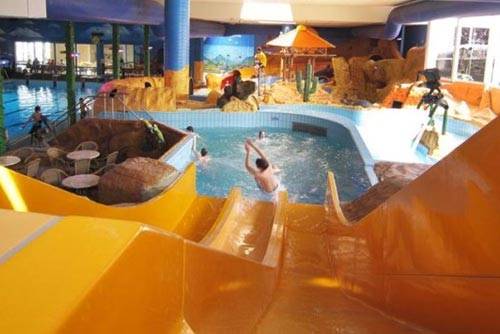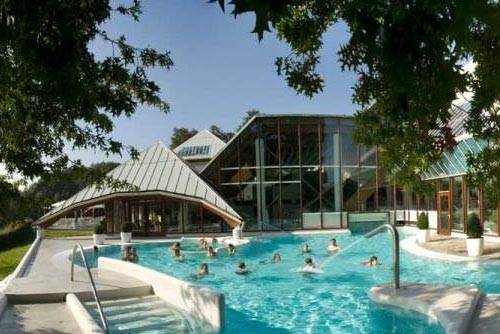 Ultimate wellness? Bubbling in the jacuzzi on the top of the Cauberg in Valkenburg or in the Thermal Baths in Aachen
Auberge de Smockelaer is just 14 kilometers away from Thermae 2000. Due to it's unique location on top of the Cauberg in Valkenburg this wellness center is an absolute must if you're looking for the ultimate in relaxation. Relax in the hot springs while enjoying the beautiful views over the Geul valley. Visit the Thermae 2000 website
Carolus Thermen in Aachen is definitely recommended for a relaxing wellness day. You can completely relax In the 8 thermal pools, saunas and beauty salon.
Take a moment to completely clear your mind and enjoy ...
Slenaken has all the best of Limburg's Heuvelland
Slenaken is a lovely little village set in the Limburg hills. Here you won't find mass tourism, but generous hospitality as only we know here in Limburg. Slenaken is surrounded by beautiful woods, with the Geul valley and the Gulpen valley creating a paradise for nature lovers. The hollow trails, sloped forests, river valleys and green fields provide a guarantee for a wonderful stay.
And if you're looking for the conviviality of the city, then large cities like Maastricht (23 km), Aachen (14 km) and Liege (44 km) are but a stones throw away.
Things to do in South Limburg
What do you think of when you think of Limburg? Carnival? Burgundian cuisine? Maastricht? Hilly landscapes? It is all very typical Limburg, but there is so much more. Whether you want to visit an amusement park, go on a cultural excursion, a fun shopping spree or explore nature, it is all possible in South Limburg. We'll give you some tips.
A successful group activity begins at the Smockelaer
Organizing a group activity is always a challenge. We offer you our services and help you with the organization. How about a sporty afternoon with a former Tour de France cyclist, a cooking class with a top chef, or the reconstruction of our Vakwerkhuys to scale? We will gladly organize an activity based on the objectives and composition of the group.
Lastminute offer
Lastminute hiking package
4 nights (Monday - Friday)
4 x breakfast
Cycling and walking on the Hill
View this offer
Subscribe to our newsletter
Zoover
Ligging
Service
Prijs / kwaliteit
Eten
Kamers
Kindvriendelijk
Hygiëne

9.3
9.1
8.8
9.0
9.2
9.0
10.0

Ontvang gratis ons exclusieve boek
Wilt u de unieke luxe ervaring van de Smockelaer nog even rustig nalezen? Vul dan hier uw gegevens in en ontvang het exclusieve boek " Short stay & Meetings in style" digitaal.
Direct aanvragen:
Why choose The Smockelaer
Groundbreaking generous hospitality
We take hospitality one step further. Experience it for yourself!
Quality, luxury and comfort
If you choose de Smockelaer you choose quality.
South Limburg Heuvelland (Hill country)
Enjoy the rolling country side, beautiful forests and magnificent views.
Out and tips
Dodge with Schorre Fons
An original, exciting, informative and funny group outing for young and old? Book a smuggling trip to the Smockelaer and reveal an exciting adventure in the woods around the Smockelaer with Schorre Fons.
A fun and hilarious gameplay experience trip where you and the professional actors will go back in time that many smuggling was in Limburg. If you manage to get goods through customs?
Read more about the smuggling trip
Walking and cycling in Limburg
Smockelaer is surrounded by beautiful rolling countryside, the area to pull away from it on and make a nice walk or bike ride. Guests of the Smockelaer can get a map of the area where various walking and cycling routes are indicated by different distances.
Our suggestion? After a walk or bike ride seat in our restaurant and treat yourself to a cup of coffee with Limburg pie.
Read more about the possibilities
The best business deals arise on the golf course
in the small village of Wittem, just 3 kilometers away from the Smockelaer, is the highest course in the Netherlands. The 18 holes are spread out over the rolling hills with beautiful views, but also in the wooded Fri).
surroundings,this par 70 course is a challenge for experienced and less experienced golfers.
Previous
Next