Sheep herding in South Limburg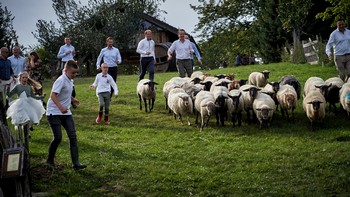 Not only our nature guide is happy to show you around the country side, but also our shepherd will gladly show you some more of Limburg. And here comes the challenge: there is one flock of sheep and only 3 dogs. How can you get all the sheep into their pen as quickly as possible?
Sheep herding, a matter of working with the dogs
Sheep herding is a challenging activity that promotes collaboration and communication. Meaning with the dogs. First the shepherd will show you how drive the flock into the pen with his three dogs and then it's the group's turn to attempt the same. The group has to cooperate with each other, but also with the dogs. An educational activity with lots of entertainment!
Watch the introduction video